Images Of Ireland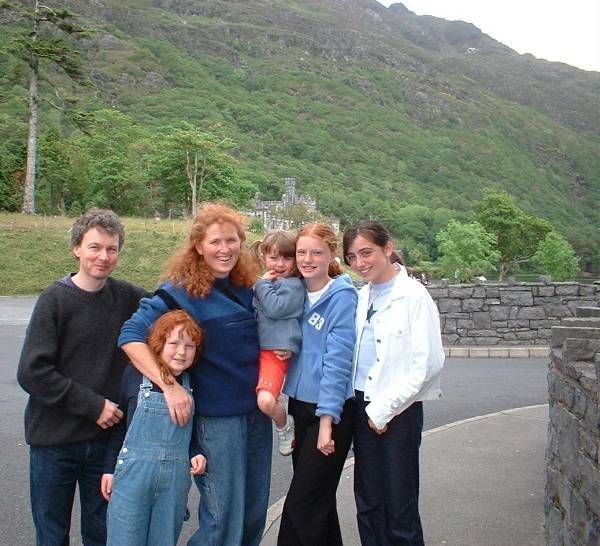 Family at Glenveagh by Donna Gray Olson.
In June 2002 a lifelong dream came true for me. A trip to Ireland. Our tour guide was obsessed with castles. In two weeks touring the length and breadth of Ireland we visited many of them. How I longed to get in touch with the PEOPLE of Ireland. The only occasion we had was during our lunch breaks and these we spent in pubs. To my surprise I witnessed whole families together eating, drinking and visiting. The children mingled with the guests. Not mischievously but with a sense of belonging with no impression of being out of place or in the way. How delightful!
When we toured Glenveagh National Park to visit, of course, another castle. I noticed this beautiful family. The children displayed the same open spirit that I had observed while eating lunch in many pubs throughout Ireland. Here was my chance to capture that spirit on film and so I did. I didn't get their names but they are truly the embodiment of all that Is good about Ireland. This picture was taken by me, Donna Gray Olson. ( You can contact Donna at
donnakot@msn.com
)
At The Hay by David Schofield
My wife's uncle Denis Brennan, who lived on the Ballyshannon Road in Rossnowlagh is the focal point of this photo. When we would visit with the children he would give us the new house just above the "wee thatched" that he built and lived in. Between the road and the house, was a field, just a small field with a small stream running through it. When the grass got high, Uncle Denis would get a tractor in to cut it. The tractor could not get down the bank of the stream. After the tractor did the first cut, Uncle Denis would go out with the old scythe to cut down the stream banks. I picked up the camera and made several images from the front of the house. This is the one I like the best because it shows only the field with the small hay cocks already started and Uncle Denis with the sharpening stones in each of his back pockets. the scene conjures a memory of a time long gone, when a lone farmer would take to the fields and with the strength of his back and his work alone, have the field cut and put up before the bad weather. I have also included a photo of the "wee thatched" as it looks today. When Uncle Denis died in 1998 the old expression never rang truer..."We shall never see the like of him again..." He was a link to the old ways...a brilliant storyteller and a special kind of friend.
David Schofield, Belmar, New Jersey.

David is a a professional sports photographer and you can contact him at ducky022@optonline.net
Cormac O'Connor by Lisa Steckles
Sheep are everywhere in Ireland and they all need to have their wool clipped in the summer. Sligo farmer Cormac O'Connor's advice for young padraig who was helping that day was "grab hold of a piece that won't fall off...a leg"
"Farmer's Rest" by Owen Brennan
Donegal farmer and his young helper resting after a hard days work building up his turf stack. The turf is cut from the bog and dried. It provides him with a supply of fuel for heating and cooking.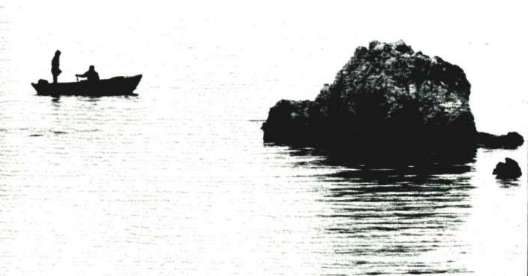 "Evening Boatmen" by Owen Brennan
Photo taken at Browns Bay, Islandmagee, County Antrim.
The boat was crossing the bay, silhouetted against the evening sky.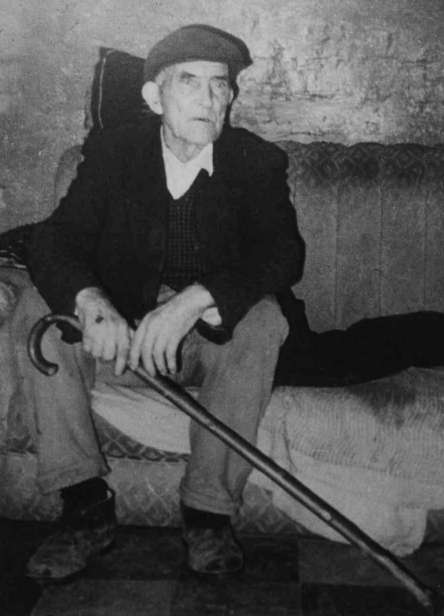 "My Granda" photo taken by Owen Brennan
Photograph of my Granda taken with my very first camera about 25 years ago. Lucky enough I found the negative a while back and was able to print another copy of it. I was named Owen after him. This is one of my favourite photos because it captures him perfectly. He smoked a pipe and I was envious of his ability to spit accurately into the fire from a great distance. You don't appreciate your grandparents until after they're dead. There are just so many questions I wish I had asked him at the time, but it's too late now.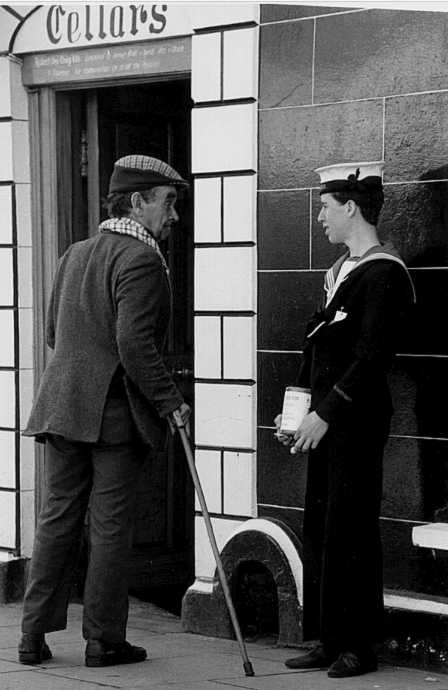 "When I was your age" by Owen Brennan
I was sitting in the car in Larne County Antrim main street waiting for my wife as usual when I noticed the sea cadet collecting on the footpath opposite. I got my camera out, focused on him and waited.
Most people just walked by or quickly gave to his cause but this man stopped.
Unfortunately I couldn't hear what was said but I can imagine.
"Smoking in Galway" by Michael Straub
This man was standing in front of a hotel in Galway City.
I don't know why, but I was fasinated with the elder men of Ireland.
They all seemed very wise and refined. I wish had time to sit down
and talk with a few of them to learn from thier experiences. (Michael Straub)
You can contact Michael at Ulemon2@aol.com

Front Page . Photo's . Songs . Poetry & Stories . Recipe's . Message Board
Owen Brennan
Copyright © 1998 belongs with the original authors. All rights reserved.
Revised: March 03, 2004.