Images of Ireland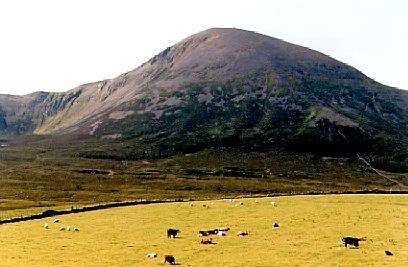 "Croagh Patrick, Ireland's Holy Mountain" by Shannon McKenna
In county Mayo between Louisburgh and Westport this majestic mountain, rising 2,510 feet above sea level has been sacred for almost 5000 years. As far back as 3000 years our megalithic forefathers worshiped there, holding their rituals on its slopes. According to ancient chronicles and legends Saint Patrick, the patron saint of Ireland, spent 40 days and nights in 441 A.D. on the summit praying and fasting. While on the summit Patrick was tormented by black birds which according to legend became demons and snakes. Patrick threw his bell at them and banished them into a hollow known as Lag na nDeama which is located on the north side of the mountain. This is the reason why no poisonous snakes or reptiles can be found in Ireland to this day. For centuries the mountain became a site of pilgrimage for the faithful and in later years also for the adventurer who scale the height for whatever reason they have. Every year the last Sunday in July, also known as "Reek Sunday" is the official pilgrimage day when thousands gather at the village of Murrisk and follow this old Irish tradition.
Front Page . Photo's . Music,Songs & Singers . Poetry & Stories . Recipe's
Message Board . Links . Contact me & Letters
Owen Brennan
Copyright © 1998 belongs with the original authors. All rights reserved.
Revised: March 03, 2004.