Images Of Ireland
At The End of the Day
If you have any Epitaph's or other interesting comments made on or about the deathbed,
poignant or humorous please send them to me at publishme@voice.freeserve.co.uk
I'd love to add them to this page.
Michael Collins seems to have predicted his own death. He was singing the Irish Peace Treaty and said "I am singing my own death warrant."
Torlogh O'Carolan an Irish poet asked for his last drink of whiskey and said:
"It would be hard if such friends should part at least without kissing."
Oscar Wilde, on his deathbed was drinking a glass of the finest champagne and said,
"Now I am dying beyond my means." (supplied by Suzanne Neeley)
Rosie O'Shea, a famous prostitute in the wild, wild west and very prosperous madam in Idaho, "I can't go home like this!" (supplied by Suzanne Neeley)
Bodie, California was a booming gold rush town in the 1860's ....it is estimated that over 2 billion dollars (THEN!!!) was taken out of the ore in Bodie. It also had the reputation of being the most violent, lawless, wild den of thieves in the West. It truly represented (rightfully so!) the "wild, wild, West.." Little Meggy Ryan was about 9 years old when her parents packed up their cabin in Butte, Montana heading for the gold fields of Bodie. Little Meggy, with tears in her eyes, reportedly said, "Goodbye God, we're going to Bodie". These simple words, spoken by a very small Irish immigrant girl, immortalized Bodie forever in the history books. (supplied by Suzanne Neeley)
Perhaps the most touching "last words" were not words at all,...Colonel Patrick Cleburne, An Irish born American soldier, died on one of the bloodiest battlefields of the American Civil War in his stockinged feet, because he had seen one of the Mayo boys from his hometown of Little Rock, tramping barefooted over a corn field and leaving bloody tracks behind him. He gave this boy his boots and a few minutes later, went to meet his God without them.
(supplied by Suzanne Neeley)
"Would this wound had been for Ireland" In 1693 Patrick Darsfield said when mortally wounded at the battle of Landen in Flanders.
Did you ever wonder about those that left Ireland to "make their fortune".
Where did they go? How did they get on? Where did they end up?

My thanks to my friend Suzanne Neeley for the following epitaph's of Irish immigrants.
Suzanne writes "I live in Nevada, about 30 miles from Virginia City,
where many Irish gold miners were buried...
One epitaph in particular has haunted me...that of Declan O'Connell, died 1861,"
"I came for the love of gold, and found that I had left it behind in Ireland."

"Declan O'Connells Grave" by Suzanne Neeley
Just 2 miles down the hill from Declan O'Connell's grave we find in in Silver City, Nevada
"Here lies Butch. We planted him raw. He was quick on the trigger, but slow on the draw."
Butch was actually John Pearse, a sometime gunslinger but mostly a drunk according to Mark Twain who wrote complete columns about John's exploits including his betrothal dance with a pig.
The articles appeared in the "Territorial Enterprise" which was the most famous and widely circulated paper in the West.

"Union Brewery Saloon" by Suzanne Neeley
A grave in Goldfield another Nevada gold mining town bears the inscription
"A Stranger in these parts, but she said she was from Ireland." (no dates)
And this one by the roadside near Nogales, Arizona:
"Here lies Mary Katherine, a very good girl." born Wickelow 1851 died here July 1, 1869. (makes you wonder!!! also notice the spelling of Wicklow)
Lester Moore was a Wells, Fargo Co. station agent for Naco, Arizona in the cowboy
days of the 1880's. He's buried in the Boot Hill Cemetery in Tombstone, Arizona:
" Here lies Lester Moore Four slugs from a .44 No Les No More."
The grave of Ellen Shannon in Girard, Pennsylvania is almost a consumer tip:
"Ellen Shannon, Who was fatally burned March 21, 1870 by the explosion of a lamp filled with "R.E. Danforth's Non-Explosive Burning Fluid"
This one you will not believe!!! Denis O'Healy......he was a lawyer here in Reno and he was born in Montana in 1898...but he loved Corrigan's, (an "Irish" pub in Reno that has been here for about 75 years) ....he loved it so much there, and he went there nearly every day and sat in the same spot. He loved Corrigan's so much that he had his ashes interred into the bar in that same spot!!! and the owner placed a plaque there in his memory..it reads, in it's entirety...
"You are sittin' in my seat, and this is as close to Ireland as I'll ever get. --Denis O'Healy, died January 2, 1987."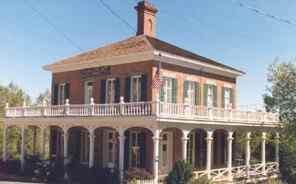 The mansion built by John Mckay. Photo by Suzanne Neeley
"I don't care whether I win or lose. And when you can't enjoy winning at poker, there's no fun left in anything." --John Mackay, who became known as "the King of the Comstock", one of the wealthiest men who ever lived. He was a simple Irish man however, and whilst Mrs. Mackay, armed with her millions, spent freely on her palaces in London and Paris, he insisted, on his INFREQUENT visits, on recalling his boyhood days in Dublin as entertainment for her visiting dignitaries and took a certain malicious pleasure in introducing them to his pet pig, who shared the family parlour in shanty Irish tradition. There is no evidence that Mr. Mackay ever lived in squalor in Dublin, rather, we think he simply enjoyed tormenting others. He died in 1902 and is remembered not just as a wealthy man, but one of the kindliest benefactors many had ever had. It is estimated that his total charitable donations over a 30 year period totalled somewhere around $20,000,000.
You can contact Suzanne Neeley at suzanne@gbis.com
Dramatist George Bernard Shaw composed this epitaph for himself
"I knew If I Stayed Around Long Enough, Something Like This would Happen"
Written on a gravestone in Kilmurry, Ireland
This stone was raised by Sarah's lord,
Not Sarah's virtues to record
For they're well known to all the town
But it was raised to keep her down.

Don't mourn for me now
Don't mourn for me never
I'm going to do nothing
For ever and ever
Irish comedian Dave Allen wishes to have the above enscribed on his tombstone.
Oscar Wilde the master of the insult was being given flowers from fans on the first night of one of his plays. One of his rivals gave him a rotten cabbage:
"Thank you my dear fellow," says Oscar, "everytime I smell it I shall be reminded of you"
"To lose one parent may be regarded as a misfortune, to lose both looks like carelessness." Oscar Wilde (1854-1900) The Importance of being Earnest
A notorious bore once commented to Oscar Wilde that he had passed Oscar's house that day: Oscar replied "Oh, thank you so much."
Oscar defined a cynic as
"The man who knows the price of everything and the value of nothing"
Oscar described the English country gentleman galloping after a fox
"The unspeakable in pursuit of the uneatable"
"The Irish do not lend themselves to psychoanalysis." : S. Freud
(Thanks to Joe Fegan)
"I have a total irreverence for anything connected with society except that which makes the roads safer, the beer stronger, the food cheaper, the old men and old woman warmer in the winter and happier in the summer" : Brendan Behan (1923-1964)
"He does not win who plays with sin
In the secret House of Shame"
Oscar Wilde (1854-1900) The Ballad of Reading Gaol
"We are all in the gutter, but some of us are looking at the stars"
Oscar Wilde (1854-1900)
"We have just enough religion to make us hate, but not enough to make us love one another." : Jonathan Swift (1667-1745)
"If John Major was drowning, his whole life would pass in front of him and he wouldn't be in it." : Dave Allen (1936- :)
"Marriage is popular because it combines the maximum of temptation with the maximum of opportunity" George Bernard Shaw (1856-1950)
"....families, when all was eaten and no hope left, took their last look at the sun, built up their cottage doors, that none might see them die nor hear their groans, and were found weeks afterwards, skeletins on their own hearth." John Mitchel (1815-1875)
"Christ! I'm in the wrong house." said by an IRA gunman after shooting a man in Belfast on 11th November 1975
During the intervals the devil is busy; yes very busy, as sad experience proves, and on the way home in the small hours of the morning, he is busier still.
A statement on late-night dances, by Irish Bishops 23rd Dec. 1933
Front Page . Photo's . Songs . Poetry & Stories . Recipe's . Message Board . Links . Contact me
Owen Brennan
Copyright © 1998 belongs with the original authors. All rights reserved.
Revised: August 09, 2002.