Images of Ireland
There's only one "Most Westerly Point in Europe" and Kerry has it. Kerry's jewel and tourist magnet is the beautiful "Ring of Kerry". Many also travel there to see Fungie the famous Dingle dolphin.

Killarney National Park by Pati Beal
Killarney National park is a nature lovers paradise. It contains 25,000 acres of woodland, three lakes, red deer, wild animals and birds of prey, Thanks to Pati from Wilmington, MA, USA for the lovely photo.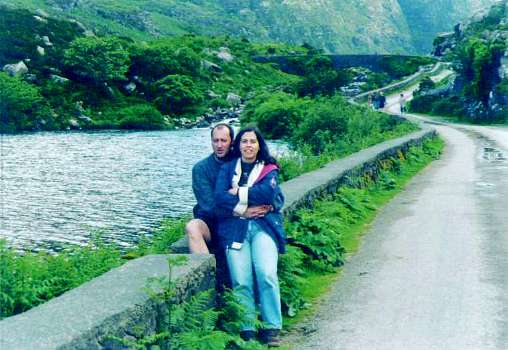 "Ring of Kerry" courtesy of Jorge
Photo of Jorge and his wife Rosario taken along the Ring of Kerry.
The Ring of Kerry starts in Killarney and makes it's way through the beautiful mountain and coastal scenery of the Iveragh Peninsula.
Front Page . Photo's . Songs . Poetry & Stories . Recipe's . Message Board . Links
Contact me & Letters . Web-Site Built For You
Owen Brennan
Copyright © 1998 belongs with the original authors. All rights reserved.
Revised: July 28, 2002.